Homes for Sale in Chester County PA – Will Your Kitchen Sell Your House?
Sellers of homes for sale in Chester County PA who are preparing their home for sale often ask about the extent of renovation they should consider for their kitchen. Should they replace the appliances, counter-tops, flooring?
There is no question that kitchens are a priority for Buyers of Homes for sale in Chester County PA. People spend a great deal of time in their kitchens – the heart of the home. We entertain in our kitchens, and spend much family time in this room. Home Buyers eliminate homes from consideration on the basis of the kitchen every day. So it's important that your kitchen shows well to potential buyers.
Buyers generally want to move in and start cooking, and not to take on major renovation projects. Buyers often take one look at Formica cabinets and linoleum flooring and make a bee line for the door. But your decision on the extent of renovation depends upon homes in your immediate area.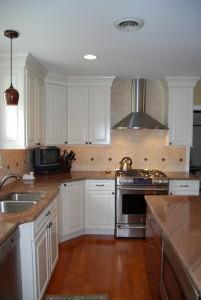 Stainless and Granite are the Favorites
The best place to start when considering an upgrade is to view the competition. What Buyers expect very much depends upon your price range. If kitchens in your area are modest, it makes no sense to spend $40,000 to upgrade your kitchen. You will never find a buyer willing to pay more than the neighborhood will bear. You do not want to price yourself out of your market. A good rule of thumb is to not spend more than 10% of the value of the home on a kitchen renovation.
Not up for renovating? You need to be prepared to make concessions on the price. And realize that you have narrowed your pool of potential buyers because this eliminates those not willing to take on a project.
If you find that the competition at your neighborhood's price level has granite counter-tops and stainless appliances you will be best served to consider upgrading comparably. Granite is by far the preferred counter-top for Homes for Sale in Chester County PA. If you can swing it, go with granite. Prices have really come down over recent years. The same is true with stainless steel appliances. It's what buyers want. Flooring is important. Tile and hardwood are the preferred choices for today's buyers.
Not prepared for a major remodel? Some simple changes can make a big difference. Consider painting the walls a warm, neutral color. Stay away from anything that is too bright or unusual. De-clutter with a vengeance. Get rid of all the brass. Changing drawer pulls and knobs to an updated style can transform a kitchen. Consider painting the cabinet faces, but make sure it's a high quality job; otherwise you will have wasted your time and money. Update the lighting fixtures, switch plates and faucets. If your sink is in bad shape, a shiny new sink might be in order.
And by all means when selling Homes for Sale in Chester County PA make sure it's sparkling clean when it's time to start showing it to buyers. With a little elbow grease you can have a kitchen that will make buyers want to call it their home sweet home. Which allows you to focus on moving on to the home of your dreams…
Need answers on other remodeling considerations? Contact Ann Byer.
Have you been looking at homes for sale? Seen any kitchens you love?
What's the ugliest kitchen you have ever seen? (Hey, no addresses okay? Just descriptions. We're not here to hurt anyone's feelings. )