Chester County, PA – 
MainLineToday, the leading local magazine, has announced Ann Byer as a Top Realtor for 2023. Ann has proudly lived in Chester County since 1992 and has been a realtor since leaving her previous career in engineering and project management. Her devotion to providing exceptional service to her clients has earned her this well-deserved recognition.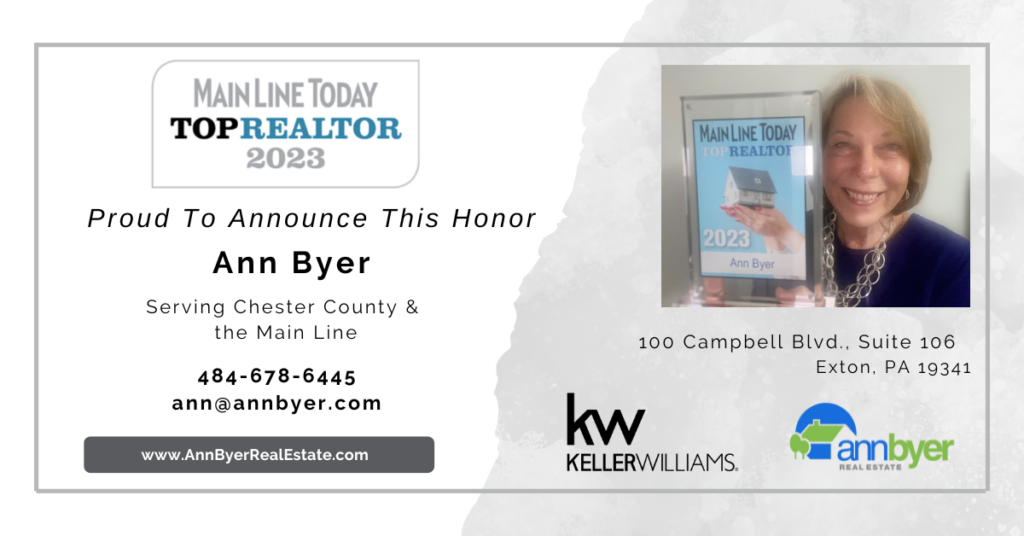 As a Realtor®,  Ann is known for her personable, accessible, resourceful, and efficient service. She understands that buying or selling a home can be overwhelming, and she is committed to being there for her clients every step of the way. Her reliability, timeliness, and enthusiasm are qualities that have helped her stand out in the industry.
Ann's extensive knowledge of the real estate industry and her familiarity with the area allow her to provide her clients with the best possible representation. She makes it her mission to provide her clients with all the information they need to make informed decisions when buying or selling their homes.
It's her unique blend of compassion and dedication to customer service that sets her apart. She takes the time to get to know her clients on a personal level, allowing her to understand their specific needs and goals. Her superb negotiation skills and her attention to detail ensures meeting these criteria.
MainLineToday's recognition of Ann Byer as the Top Realtor is a testament to her exceptional service, dedication, and professionalism. If you're in the market for buying or selling a home, be sure to contact Ann Byer for an exceptional real estate experience.