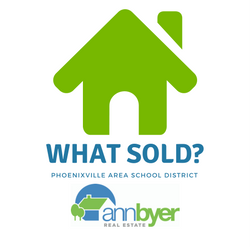 2018
JANUARY
CLICK HERE SOON
FEBRUARY
MARCH
APRIL
 
MAY
 
JUNE
JULY
 
AUGUST
SEPTEMBER
OCTOBER
 
NOVEMBER
 
DECEMBER
You need to know all Phoenixville Area School District Sold Homes when purchasing or selling a home.  We provide a detailed analysis of what sold each month. The Sold Price has been adjusted to factor in any Seller Assist, which effectively reduces the amount the Seller nets on their Phoenixville Area School District Sold Homes . You can also use our sold home statistics to view the trends in housing inventory, days on the market, and the number and prices and days on market for closed listings each month. Short Sales and Foreclosures and New Construction Coatesville Area School District Sold Homes are also identified. We provide this information to you to help you in searching for or selling a home in communities such as Coatesville, Downingtown, Exton, Malvern, West Chester, Chester Springs, and Phoenixville. These statistics only include the listing information gathered from TrendMLS, so they will not represent a full history of the property listings if a home was not sold through a Realtor. If you would like us to conduct a thorough search on a particular listing or neighborhood for you, please call us at 484-678-6445.
View current and past market stats from our local School Districts such as Downingtown Area School District Sold Homes, West Chester Area Sold Homes, Great Valley Area Sold Homes, Phoenixville Sold Homes, and Owen J Roberts Sold Homes so you can be the most informed. Have a question?  Please call Ann Byer!
Data is compiled from TrendMLS; data is deemed reliable, but not guaranteed.
If you are in the market to buy or sell homes for sale in Phoenixville Area School District Sold Homes or simply want to know the value of your home, Ann feels it is important to understand the trends in Sold Listings, Days on the Market, and Sale Price to Listing Price Ratio. With the right information, you can make an educated decision about your current or future Phoenixville PA Home Value. Note that the Net Sold Price is the Sold Price less any Concessions made by the Seller.
If you need help to determine the value of your home, please contact Ann Byer of Keller Williams Real Estate Exton.